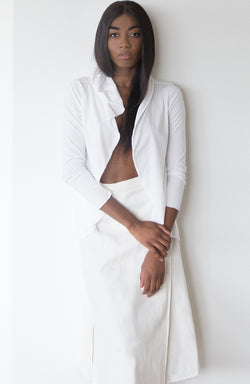 Organic Cotton Cardigan | Limited-edition 2020 Pre-order Price
25% Funded | Limited Edition Pre-Order
Style
A super-soft, light cardigan with a small shawl lapel and relaxed bracelet sleeve provides a comfortable fit and a relaxed aesthetic adaptable to many occasions.
Composition
This cardigan is made of 100% organic cotton.
Environmental Facts
Scroll down to see the product's environmental tag. 
This item was created with GOTS/OCS certified fabric and is undyed. 

The Global Organic Textile Standard (GOTS) is the worldwide leading textile processing standard for organic fibers, including ecological and social criteria, backed up by independent certification of the entire textile supply chain.

No Chemicals of any kind have been used on this garment for fixing, shrinkage control or other treatments.

This item is compostable. At the end of the item's life cycle, we recommend closing the loop in a biological cycle of recovery by putting this item in a household compost.

This item has been tested and will degrade in less than 4 months. 

The soil is safe for organic gardening and other garden practices.
Fit
Model is wearing a women's size S.
Wash and Care
Hand wash and air dry if possible. Do not bleach. Hang dry or tumble dry low.
We don't recommend ironing, but the item may be steamed. 
You may machine wash cold/warm with similar colors.
Dry Cleaners cause Pollution due to chlorinated solvents (PCE); containing highly toxic chemicals with a high level of persistence to degradation (over a few decades). 
Manufacturing Process
Fabric Supplier: China, Supplier has obtained GOTS Certification/Global Organic Textile Standard, OCS Certification.
Manufacturer: China, Manufacturer has obtained Worldwide Responsible Accredited Production Certification. 
Dye Process: This item is undyed.
100% Compostable. 
Pre Order

You may currently pre-order this item for Spring 2020.
By buying an item on a pre-order basis, you receive it at wholesale prices.
Once you place your order, we will contact you with the estimated shipping date, which is about 3 months from the time you place your order.
This option was designed to grant our loyal customers, the opportunity to pre-buy at more affordable, wholesale prices.